Overview of the Programme:

Rackets Cubed is a UK Registered Charity that runs integrated Squash, Tennis, Education (STEM / Maths) and Nutrition Programmes for local inner-city children from high IDACI schools . We currently host at 5 "Aspirational Settings"; 4 in London at the Roehampton Club, The National Tennis Centre, Reed's School in South West London, and the Roehampton University, and one in Yorkshire at the Pontefract Squash Club
Founded in late 2016, Rackets Cubed currently serves 200+ primary school children from Sacred Heart Roehampton, Alton, Airedale, Heathmere and Ellingham Schools. It strives to provide them with significant complementary extra-curricular support.
The current Roehampton club program currently runs 3 sessions per week. On Monday and Wednesday we offer Squash, Maths and an evening meal, and on Friday afternoon offering Tennis and Maths.
Sacred Heart School is a Roman Catholic School located in Roehampton, South West London. The school is responsible for the selection of the Year 4 children on the programme. 43 % of students at Sacred Heart Primary School are in IDACI Band 1a (Income Deprivation Affecting Children Index, bottom 10% Deprivation Band) and eligible for free school meals, and over 80% of the pupils living in the area of highest deprivation in the London Authority. Eligibility for Free School Meals (FSM) is indicative of family income
Background:
The programme's vision is driven by the increasing evidence that active children have higher school achievement and that nutritious foods improve classroom behaviour. There are a number of factors which have been shown to adversely affect a child's learning and development (from NHS Wandsworth)
A child's long term health and fitness is adversely affected by being overweight which in turn impacts learning and development in children.
Disadvantaged children are less likely to participate in physical activity outside of school.
Self-esteem, participation and confidence are all important factors in a child's school attainment as well as their quality of life. Obesity can adversely affect all of these things and it is thought that poor self-esteem may be a reason for decreased attainment in obese children.
Nutrition and physical activity interventions in schools tend to have the biggest impact in populations with a high prevalence of disadvantage.
UK Children need more exercise - especially girls, study after study says
Half of all UK seven-year-olds do not do enough exercise, with girls far less active than boys. University College London researchers found just 51% of the 6,500 children they monitored achieved the recommended hour of physical activity each day. For girls, the figure was just 38%, compared with 63% for boys. Half of the group also spent more than six hours being sedentary each day, although some of this would be spent in class, the researchers acknowledged.
Urban Squash and Tennis – AN ESTABLISHED AMERICAN MODEL
Originating and currently flourishing in the United State Urban Squash Programmes are after-school squash and education schemes. The National Urban Squash and Education Association is a not-for-profit organisation serving the United States' twelve accredited urban squash programs. These initiatives give inner city youth the same opportunities to thrive, provide structure to young lives and deliver life-changing opportunities to the children involved. Originating in Boston in 2006, the idea of connecting squash with education known as 'Urban Squash' has now produced 19 programmes operating across America, with a combined annual budget in excess of $7 million. Currently supporting 1800 children from 8yr olds through to high school, the results are impressive, with 97% graduating from high school and going on to college. Over $30m worth of educational scholarships have been awarded to Urban Squash students and over 100 students have been admitted to selective private high schools with full funding.
Key Goals :
Rackets Cubed is dedicated to giving children from inner city London the opportunity to fulfil their academic potential, improve their physical and mental health and to aim high in all aspects of their daily lives. The program focuses on improving classroom achievement, learning a new sporting skill and being active and works to achieve clear goals:
Raising academic achievement
Helping to develop a new sporting skill / talent
Improving health and fitness
Providing the same life opportunities as children from more affluent families
Providing education on nutrition, food choices and exercise
Providing work experience and increasing likelihood of employment
Providing weekly structure to ( often chaotic ) young lives
KPI's and Awards
The children are assessed using the below indicators. All participants are expected to show improvement in each of the below categories as they progress through the programme.
Behaviour : Behaviour of the pupils is closely monitored at school and on the court with a stipulation of the initiative is that the children are not placed on report at a
Attendance: Children are more likely to attend school if they have something to look forward to, (squash). Increased attendance removes anxiety about having missed things, the child is clearer on what is going on and becomes a more active participant in the school.
Attainment: Increased attendance and better behaviour lead to greater attainment. Remain in the classroom longer and therefore learn more.
Self-esteem and confidence : A better understanding and greater interest in maths combined with the ability to successfully play a new sport .Results of post term questionnaires reveal they feel more confident on the court and in the classroom as a result being a participant of the programme
Aspirations: New pathways to work are identified through the club environment e.g. coaching, club management, sports manufacturing, marketing. Children become aware of sports related employment avenues.
Delivery of homework: Through study-support at the club the children complete homework more regularly and to a higher standard.
Enhanced social skills: The club is a new environment for the children, a private members club in an attractive backdrop. Children gradually conform to the social norms of the setting. Polite behaviour develops with children talking respectfully to members and staff.
Progress and Awards
Squash
The Off The Wall Squash Junior Progress Awards are six skill-based awards for young players to help with their development. http://www.offthewallsquash.co.uk The OTWS Progress Awards have been developed to provide a logical step by step package that will help young players learn, practice and be consistent in a range of on court activities. Once children have undertaken an award there are certificates and silicone wristbands for successful children.
Tennis
Certificates of achievement will be awarded.
Tuition
General improvement in physical skills, mental health and education ability. Children may do well at Squash/Tennis and improve physically from it, but it can be small wins such as weight loss, taking up other sports, being in a team, social skills/confidence, learning to count through scoring, rallies as well as the extra tuition.
Nutrition
We emphasise the importance of having a healthy diet. In addition to providing water and mostly natural foods during and after sports and other physical activities, staff members encourage healthy eating behaviour as a personal goal.
Trustees:

---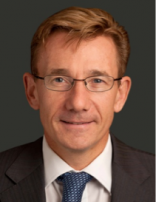 Michael Hill
Rackets Cubed Founder and Chairman
---
Investor in selected Technology / Healthcare and Philanthropic Enterprises. Passionate, if not talented, squash and tennis player who believes in the benefit of those sports to help inner city children. I have seen the effectiveness of well run Urban Sports and Education programmes in various countries, especially the USA, and wanted to see if we could replicate that success in the UK.

Previously Vice Chairman of Barclays Investment Bank, and Global co-head of Healthcare Investment Banking. Prior to that I was Global co-Head of Healthcare Banking at Citigroup, and 11 years at Goldman Sachs (NY, London and Frankfurt).

Trustee on the Professional Squash Association Foundation.

MBA from INSEAD and MA in Engineering Science from Oxford University.
Cavin O'Driscoll
Trustee and CIO Secretary
---
Long time member of the club, and player for the last 45 years. Still represents the club, and a previous Squash Captain. Active member of the Jesters, Escorts Swans and Squash Clubs

Stong believer in the potential of sports based out-reach programmes.
Serena White
Trustee
---
After graduating from Exeter Univerisity in 1986 Serena worked in Australia, Thailand and Hong Kong before taking a position in the equities department at BZW in 1989, moving to CSFB in 1997 as Vice President in the equity division. She has been a member of the club since 1995, a keen tennis player and Simon, her husband, was Chairman of the tennis committee from 2010-2013. She has three sons who are all keen squash and tennis players.
Rick Ford
Trustee
---
Board member at Roehampton Club, and ex Chairman and Captain of Squash at the club. Keen and regular tennis and squash player. Cambridge University graduate and currently works are Morgan Stanley Asset Management
Mike Holland
Trustee
---
Keen Squash and Tennis player at the Club. Ex Chairman of Squash for many years. Active fund raiser for many charities, and will act as Business Patron at Rackets Cubed. Retired after many years in the London broking sector.
Bruce Walker
Trustee
---
Keen tennis player, ex Captain of Tennis at the Roehampton club. Still represents Surrey in O45s and Reohampton second team. Founder and CEO of WalkerLeyland.
Ali Jacobs
Trustee
---
Qualified as a lawyer but gave up career to raise family of four children. Very keen sportswoman who plays competitive golf and tennis.
CIO Board Members:

---
Youth Co-Founder; Currently Captain of Squash at the Kings College School Wimbledon, and U19 club champion. Qualified Level 1 Coach who volunteers to help coach the kids each week. Leads the Rackets Cubed social media marketing, and junior participation in selected of the Fundraising activities.
Currently Headmaster of the Sacred Heart School in Roehampton
Advisors:

---
Russell Cooke - Legal & Related Charity Support

Thorne Lancaster Parker - Accounting & Finance

Geoff Newton– Strategy and Scaling

Martin Brooks– Charity Governance and Impact Evaluation

Kathryn Bartram– Education, Scaling and Schools Strategy

Nikki Rossner– Education and Program Improvement

James Dearman – IT

Tim Garner – Squash & Events

Ray Thompson & Roy Ritson – Nutrition

Abdul Varachhia – Charity application
Volunteers:

---
Fiona Anderson

Serena White

Catherine Dando

Yasmin Howe

Spencer Hill

Lorenzo Fourie